For Professional and High-Quality Linkedin Profile Cover Photos
Corporate companies need corporate headshots of their staff and CEOs and managers. Business portraits with a professional look and consistent theme contribute to your company's authority and trustworthiness. Talk to me about booking your professional Cape Town headshots photoshoot, I also operate nationally. Email me and let's have a chat.
Portable Studio Comes To You
Bringing the studio to your office or place of work makes it more efficient and easier to quickly shoot corporate headshots of many people.  The techniques I use are quick and versatile. A pure white background is the most popular request, but you can also request a "natural"  out-of-focus looking background created inside your office, or outside if you have a garden or something similar.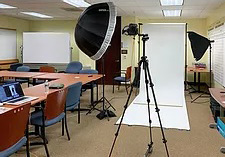 At your offices:
The most requested setup.  I'll need a large empty space to setup the lights and backdrop. This speeds up the process if there are many people to photograph.
Outdoor Shoot:
I can also setup the studio outdoors, giving you the option of having an out-of-focus nature/garden background, or I could use a white backdrop.
Open for Physically Distanced Headshot Photo Shoots
Operate mostly in Cape Town and surrounding areas, but also work nationally and Internationlly.